Posted:
Wednesday, March 3, 2021 - 21:30
MEMS Checksum plugin
To verify the plugin is correctly installed:
open the XDF Header [ XDF >> View/Edit XDF Header Info ].
click the Checksum tab.
select one of the MEMS checksum, then "Edit Selected".
If the plugin is installed you'll see "Td5 MEMS Checksum Plug-In" as shown below.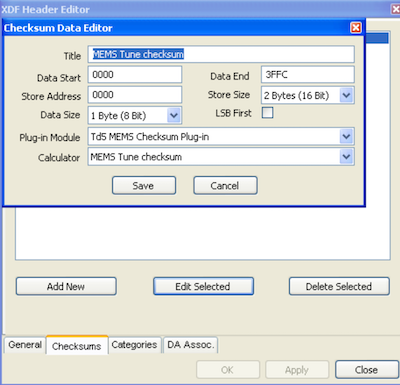 If the plugin is present and configured the MEMS checksums will be updated on save.
Note that two verification words are set to 0xFFFF during save to enable secure programming. Please be aware that once the map is saved in this way edits done in other apps will corrupt the MEMS checksums. You'll need to correct them by resaving in TP with the plugin enabled or use something like the MEMS Flasher to upload.
And if you want or need to revert to "classic" behaviour delete the two MEMS checksums from this tab.